Pain Relief for Headaches and Migraines
Of all the types of pain we must deal with as humans, perhaps none is more annoying than having to deal with constant daily headaches and migraines. Headaches and migraines can make it almost impossible for you to complete day to day tasks, enjoy time with your family, or even concentrate enough to make it through school or work.
Many treatments for headaches and migraines only focus on masking the pain as opposed to treating the underlying issue. This can lead people to go years without knowing the true cause of their pain and having to suffer from reoccurring headaches. Instead of masking your pain, we at BodyWorks Chiropractic in Euless, TX, want to help you feel pain relief from headaches using our chiropractor.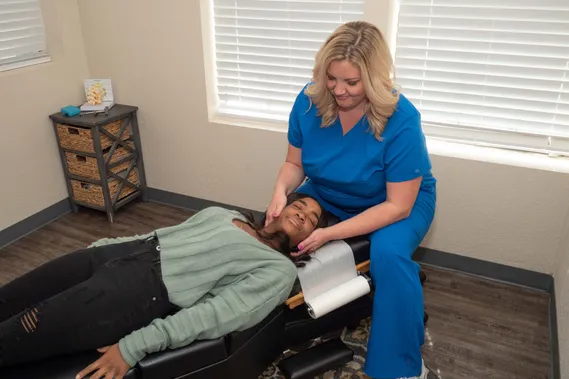 What Causes Headaches and Migraines?
It is difficult to know the exact cause of headaches and migraines. However, it is known that stress can be a trigger of these painful issues. In addition, headaches and migraines can sometimes be caused by a condition known as cervical neuralgia, which is a compression of the optic nerve that runs behind the eyes.
This is caused due to muscle inflammation and tension in the upper back. Whiplash, misaligned spines, and older injuries can also be the cause of painful headaches and migraines.
Do I Need Help from a Chiropractor?
Many headaches can go away on their own without treatment. Other times, they can linger for days, turning into migraines, and then leading to more serious symptoms such as nausea and vomiting. If you feel you've tried everything but just can't seem to find the root cause of your headache, you need to get the help from a chiropractor as soon as possible.
How Our Chiropractor Will Help
Our chiropractor will find the root cause of your headaches and migraines, whether that's due to stress, cervical neuralgia, or a misaligned spine or injury. They will then be able to prescribe the proper treatment for your headache and migraines. This can include:
Spinal adjustments to help realign the spine, alleviate pain, and restore balance
Acupuncture, which is an ancient Chinese method of healing that helps release natural endorphins and pain killers, in addition to helping you relax
Massage therapy to help reduce muscle inflammation causing headaches and to promote relaxation.
Get Pain Relief from Us at BodyWorks Chiropractic with Acupuncture, Spinal Realignment, and Massage Therapy
At BodyWorks Chiropractic, we will be able to provide you with our chiropractor so that they can help reduce your headaches and migraines in as little as a few weeks! Call us today to start feeling pain relief. Schedule an appointment at our Euless, TX, office by calling (682) 503-4177.